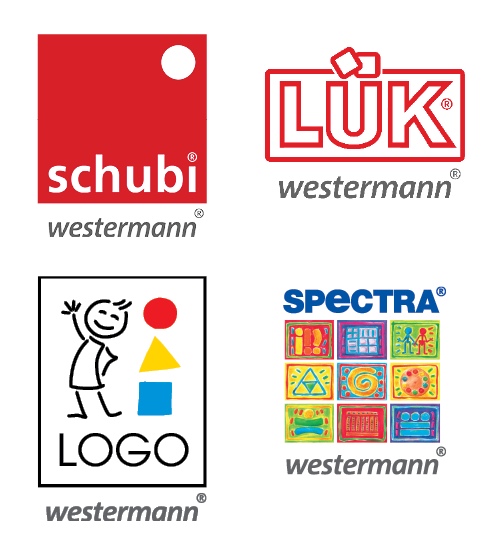 Trade catalogue 2023 | 2024
Download our current catalogue here as a
PDF file
or browse directly through the
online version
and discover our varied SCHUBI teaching and learning materials for kindergarten, primary school and special needs. Combined with the products from the well-known brands LÜK, Spectra and Logo this catalogue presents an extensive selection of high quality products in the education sector.
Prefer to flip through a
printed copy
? No problem!
Write to us at expo@schubi.com and we'll send you a catalogue free of charge.
CombiPic
Pictures for inventing stories

CombiPic promotes linguistic expression and trains the ability to listen. In addition to deductive combination skills and logical thinking, creativity and imagination are required above all. Interesting locations and weather conditions, people and animals, as well as a range of very different objects, are combined and serve as a thread for exciting story-telling. They can be used both in a one-to-one setting as well as for small group work as part of inclusive teaching, targeted intervention, or therapy.
Varied oral, as well as written games and activities, provide exciting entertainment. Appealing story themes encourage the invention and telling of stories. Also suitable for families.
Suitable for: Preschool, first school years, supporting language development, Therapy (children and adults) and as a family game.
Contents: 75 coloured picture cards (9 x 9 cm) including 25 Location / Weather cards, 25 People / Animal cards and 25 Object / Vehicle cards, instructions.
Order no. 978-3-07-210077-9
DIFFERENTO 2
Find the differences!

DIFFERENTO trains not only the power of observation, but also numerous other foundation skills such as listening comprehension, spatial orientation, memory and concentration. Because describing the picture details demands precise formulation, verbal skills are intensively facilitated.
The game has been designed to be played by two players, but the discovery of picture differences can also be set as a verbal or written task for an individual child. The challenge is to ask each other questions to find out the different details of a card pair without being able to see each other's pictures. Every time a difference is discovered, a special playing card with an exclamation mark on one side and a question mark on the other is turned over. The more differences that are discovered, the more exciting the game becomes, because the winner is whoever names the last detail and turns over the last playing card. The number of differences for each card pair can be found on the back of the cards.
Suitable for:
age brackets late nursery onwards, school, speech and language therapy.
Contents:
30 pairs of coloured cards with 3 to 8 differences each, 17 playing cards. With instructions.
Order no. 12216
schubi®ToGo
Quantities and Colours
Content:
24 coloured game cards, the same number of UFOs in the same colour combinations and a Martian with the same number of stars in the same colour combination make up a card pair • Instructions.
Order no. 978-3-07-210050-2